Home > eSalesTrack Help Menu > User > Email and Marketing > Email > Mass Email
Email
Mass Email


Mass emails send up to 5000 emails per day. You can queue up as many as you need to.
There are a few things that you need to have setup before you can send a mass email:
You need to create a view with everyone that you want to send the mass email to.
You need to have the email address field included in the view.
Once you have created this view you can follow these steps to send the email:
1. First select the records you would like to send the emails to.
You can do this by checking the boxes next to the records.

You can also do this by clicking the "All" option then clicking the "Also select xx not shown on screen?". This will select every single record in the view.

2. Once you have selected the records select "Email" from the actions drop down on the toolbar. Make sure your popup blocker is disabled.

3. The next step is filling out the email information. First pick an email address for the email to be sent from. The "To:" field will show you how many records you have chosen to send to that have email addresses. Then if you have email templates set up you can pick one to pull in off the "Template" drop down.

4. You can send the email out right away or you can queue it up to send later.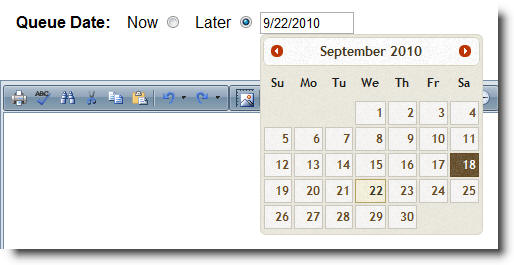 5. Once you have your email ready click

.
See also