Home > eSalesTrack Help Menu > User > Getting Started > Home Page > Quick Access > Recycle Bin
Quick Access
Recycle Bin
The Recycle Bin is where inactive records are located. If you delete a record then it will show up in the recycle bin.
Note: if you permanently delete a record there is no way to recover the information.
To get to the recycle bin:
Click on "Recycle Bin" on the left menu.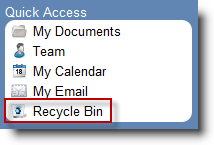 See also