Home > eSalesTrack Help Menu > User > Getting Started > Home Page > Search
Home Page
Search
The search box allows you to search for records in your database, it will look at the key fields of your modules. The search box is located on the left menu and is available on every page.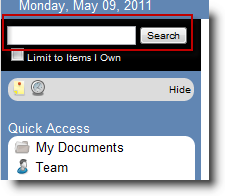 The search box will search through all records that you have access to see, you can check the box to only look through records that are owned by you.

To search for something type content in the box and click

The results of the search will show up just to the right of the search box. You can click on a record to open it.

See also