Home > eSalesTrack Help Menu > User > Data > Views > Manage Views > Publish Views
Views
Publish Views
Publishing views allows another user in your account to have any view that you have in your account. Once you publish a view another user can subscribe to that view. This works well if you have a lot of users in your account that you want to all have the same views. Published views can only be edited by the user that published the views. This way you know that every user is using eSalesTrack the same way. If changes are made after the view has been published the changes will be reflected in all the users accounts.
To Publish a view:
1. Open the module that contains the view you would like to publish.

2. Click on Manage.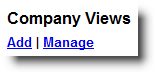 3. Click on Publish on the same line that the view is on.

4. You can publish views to a group or by user. In the box labeled Groups you will see all of the groups that you have set up, click the check box next to the group name to make that view available to them. In the box labeled People you can select specific users by checking the box next to the name.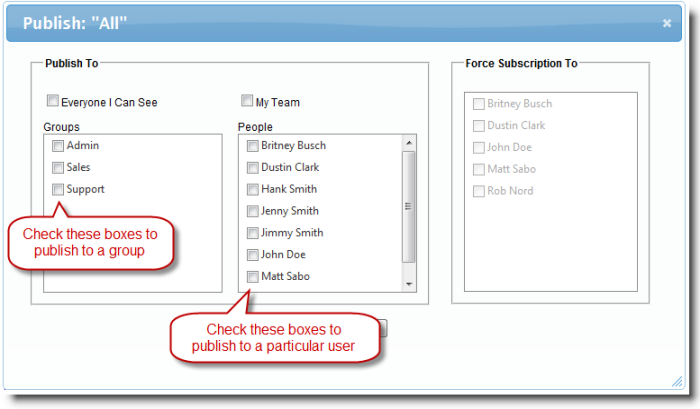 5. There is also the option to force a subscription on a user. This will force a user to have that particular view in their account. You can only force subscriptions on users that report to you, or are on your team. From the publish screen click the "Everyone I Can See" box and/or the "My Team" boxes. The available users that you can force a subscription to will be in the Force Subscription To box. Just click the check box next to their name and they will that view in their account.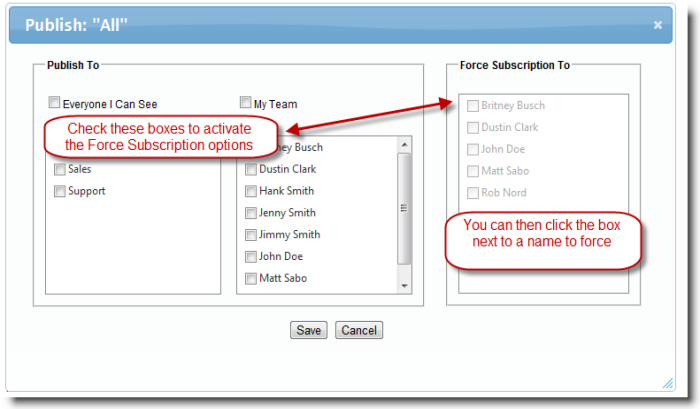 6. Click

when finished.
See also