Home > eSalesTrack Help Menu > User > Data > Manage Data > Inactive Records > Inactive Records View
Inactive Records
Inactive Records View
You can create views in your normal modules to contain inactive records for that module. You can open the profile page for any inactive record and re-activate the record.
To create a view with inactive records:
1. Open the module you would like create the inactive view in.

2.Click "Add" just above the list of views.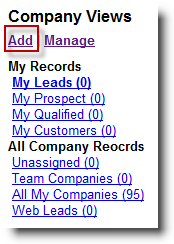 3. Check out our creating views help article to learn more about creating views. To include inactive records scroll down to step 6 and check the inactive records box.