Home > eSalesTrack Help Menu > User > Data > Views > Manage Views > Clone Views
Views
Clone Views
Cloning views will create an exact duplicate of that view. You can use to create views that are similar quickly, for example you could clone a view and change the time frame.
To clone views:
1. Click on the module where the view is you would like to clone.

2. Click on Manage.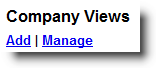 3. Click clone on the same line as the view.

4. A clone of the view will appear the original view. "Copy of" will appear in front of the name in the cloned view.

See also