Home > eSalesTrack Help Menu > User > Email and Marketing > Email > Email Settings > SMTP
Email Settings
SMTP
eSalesTrack also offers the ability to send all mail sent from them system through your own mail servers. You'll need to know all your mail server settings to use this option. If your administrator has set-up corporate mail for your eSalesTrack instance, this option will override your option 3 settings for addresses entered using this option. You will still need to enter your e-mail addresses for this domain and confirm them before using these addresses under option 3.
To set up your SMTP mail option:
1. Click on the wrench

.
2. Click on Email

.
3. Click on Email Settings

.
4. Select Option 3 - Use your own mail server to send mail.

5. Click add new email account.
6. Fill out the SMTP email information. You can usually find this informaition in your email client under settings. You can use the same information that you would to set up Outlook.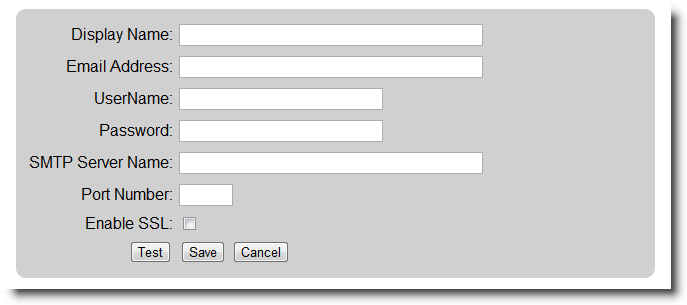 7. Click save when finished.
See also