Home > eSalesTrack Help Menu > Administrator > Modules > Add Module > Normal Module
Modules
Normal Module
Normal modules work like a data base. They contain records and relationships can be set up between these modules. You can customize what type of data is collected in these modules. First step is to create the fields for the module and then create a layout of these fields. Once this is done you can start adding records to this module. In normal modules you can set up view to see lists lf records you have added to these modules.
To create a normal module:
1. Click on the wrench

.
2. Click on modules

.
3. Click Add Module

.
4. Give the module a single and plural name.

5. Select "Normal" under Module Type.

6. Select an icon for the module.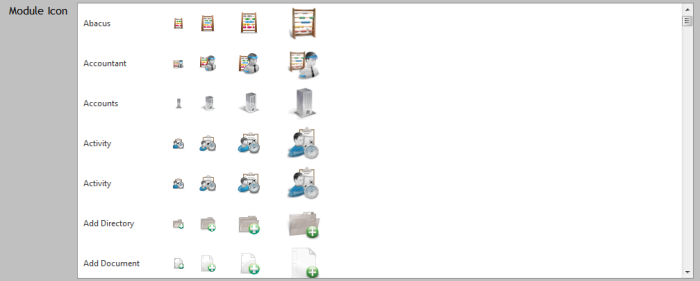 7. Click "Create Module".
8. The next step is to create fields for the module. You can find help on creating fields here: Field Creator
9. After you have created fields you will need to add them to a layout. You can find help on the form manager here: Form Manager
See also