Home > eSalesTrack Help Menu > Administrator > Modules > Form Manager > Additional Tabs
Form Manager
Additional Tabs
Additional tabs can be added to layouts to show additional information that is associated with records. Additional information can include; related records, notes, emails, content, and team members.
To add tabs to a layout:
1. Open the form manager for the module you would like to add a tab to.

2. Select the layout you would like to add a tab to.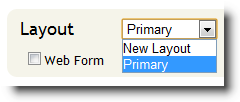 3. The additional tabs are located on the left side of the form manager under the title called " Additional Tabs".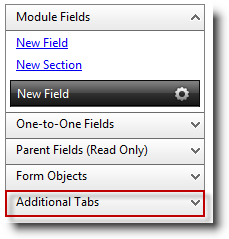 4. Click and drag the tab into any of the squares that have a dotted outline. The square you select will be highlighted blue then you can drop the tab. You can add the tabs on top and they will be placed on the right side of the profile. You also have the option to drop them down below the profile.

5. You can click on the name of the tab to edit the properties of the tab.

6. Click "Save Form Layout" when finished.

See also