Home > eSalesTrack Help Menu > User > Getting Started > Home Page > Creating Dashboards > Subscribing to Dashboards
Dashboards
Subscribe to Dashboards
After someone in your account has published a dashboard you can then go in and subscribe to the dashaboard. This will create an exact replica of the dashboard in your account. This saves you the time of setting up your own dashboard.
To subscribe to a dashboard:
1. Click on the home page

.
2. Click on "~Edit Dashboard~".

3. Click on "Subscribe To.."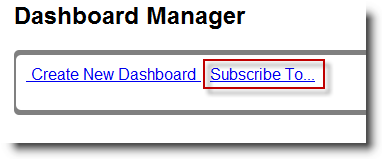 4. Check the box next to the dashboard you would like to subscribe to and then click "Subscribe To Checked".

5. You will now have that dashboard available to you on your home page.
See also